Editing your individual fundraising page is easy! Use the steps below to help get your page ready to shine!
1. Login to your Donor profile account
Log into your individual fundraising page by clicking the "Login to your account" link.





2. Manage your fundraising page
Under the "my fundraisers" section, select the fundraising page you would like to access by clicking manage.

3. Edit your page
After clicking "MANAGE" you will be redirected to your fundraising page, click on "MANAGE" next to your profile pic which will take you into, what we call, the fundraiser dashboard.





From the fundraiser dashboard, click on DETAILS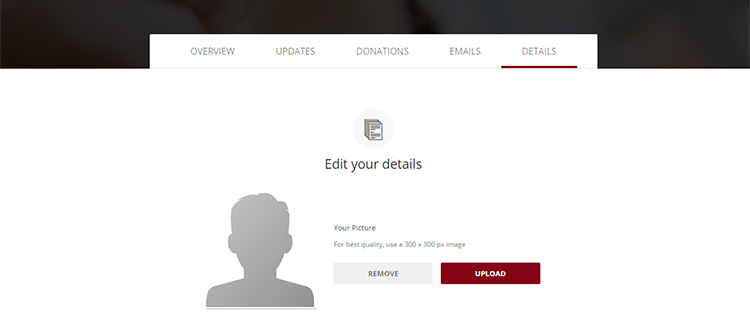 You can change the name that appears on your page, your page title, the page end date, and your fundraising goal. If you want to, you can even create a Custom Page URL for your page (e.g. www. lovetotherescue.org/CustomPageURL).
Remember these settings can be changed at any time so don't feel like any of this information is permanent if you change your mind!
F. Profile picture:
Your profile picture for the campaign can be different from your member profile picture. The recommended size is 320px by 320px.

If you have need further assistance or have additional questions please contact our support team here.