Learn how to change your password or reset a forgotten password.
How to change your password
Log in to your account
Click the Avatar in the top-right corner
Select My Profile to open your Supporter Dashboard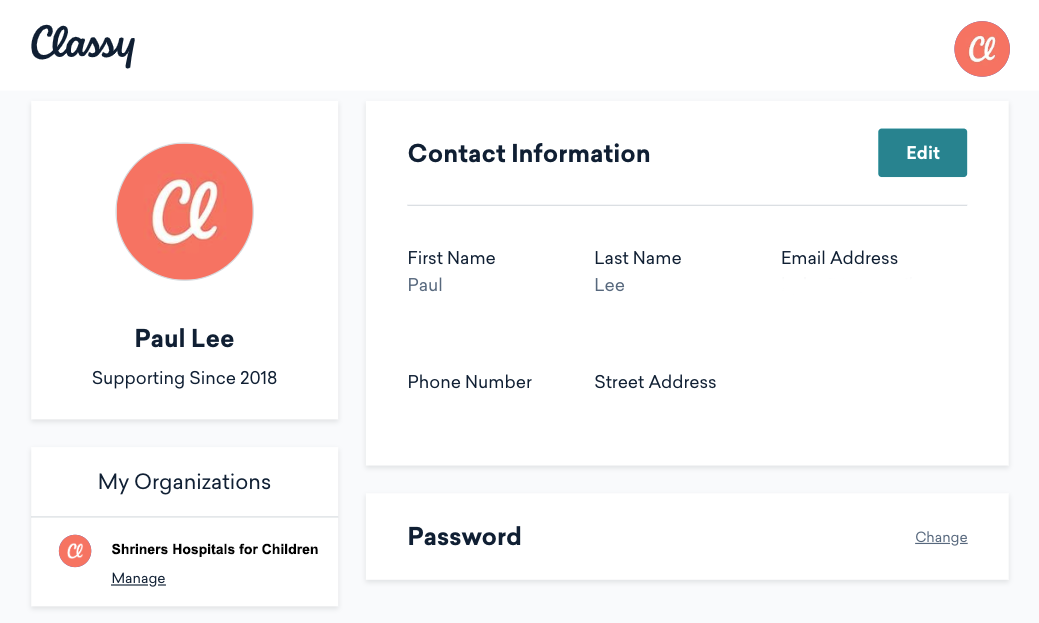 Scroll down to Password and click Change
Enter your new password and click Save
To return to your Supporter screen, click on your Avatar.
I forgot my password
Navigate to the login screen and select Forgot password
Enter in your email and select Send
Please enter the email used to create your fundraising page or make a donation and click Send. You will be sent an access code to your email address that you will need to enter on the following screen.
Go to your email to grab the access code
The access code will be sent in an email titled Your password reset code. If you don't see the email in your inbox almost immediately after you requested the password, make sure you check your spam folder, as well as search for the subject line Your password reset code.
Enter the access code and set up a new password
Once you have the access code copied to your clipboard, paste the code in the access code screen.

On the next screen, you will be asked to create a new password for your member account. The password must contain each of the following:
8 characters
1 letter
1 number
1 special character
Note: For security reasons, you are unable to use the same password that has been used previously.
Once your password is reset, you will be automatically logged in to your supporter member account. Please be sure to use your access code soon after receiving it as it does expire and a new one will need to be regenerated.
Here are a few additional resources that may help. These are designed to help you become familiar with your account. We recommend that you read through them in order to better understand your supporter experience.

For supporters: