As a supporter of Shriners Hospitals for Children, you also have a Supporter Dashboard. From your dashboard, you can change the email and password you use to log into your account as well as update your contact information.

When you make your first donation to Shriners Hospitals for Children OR create a fundraising page we create an online account for you. When you log in to your account, you'll see your Supporter Dashboard.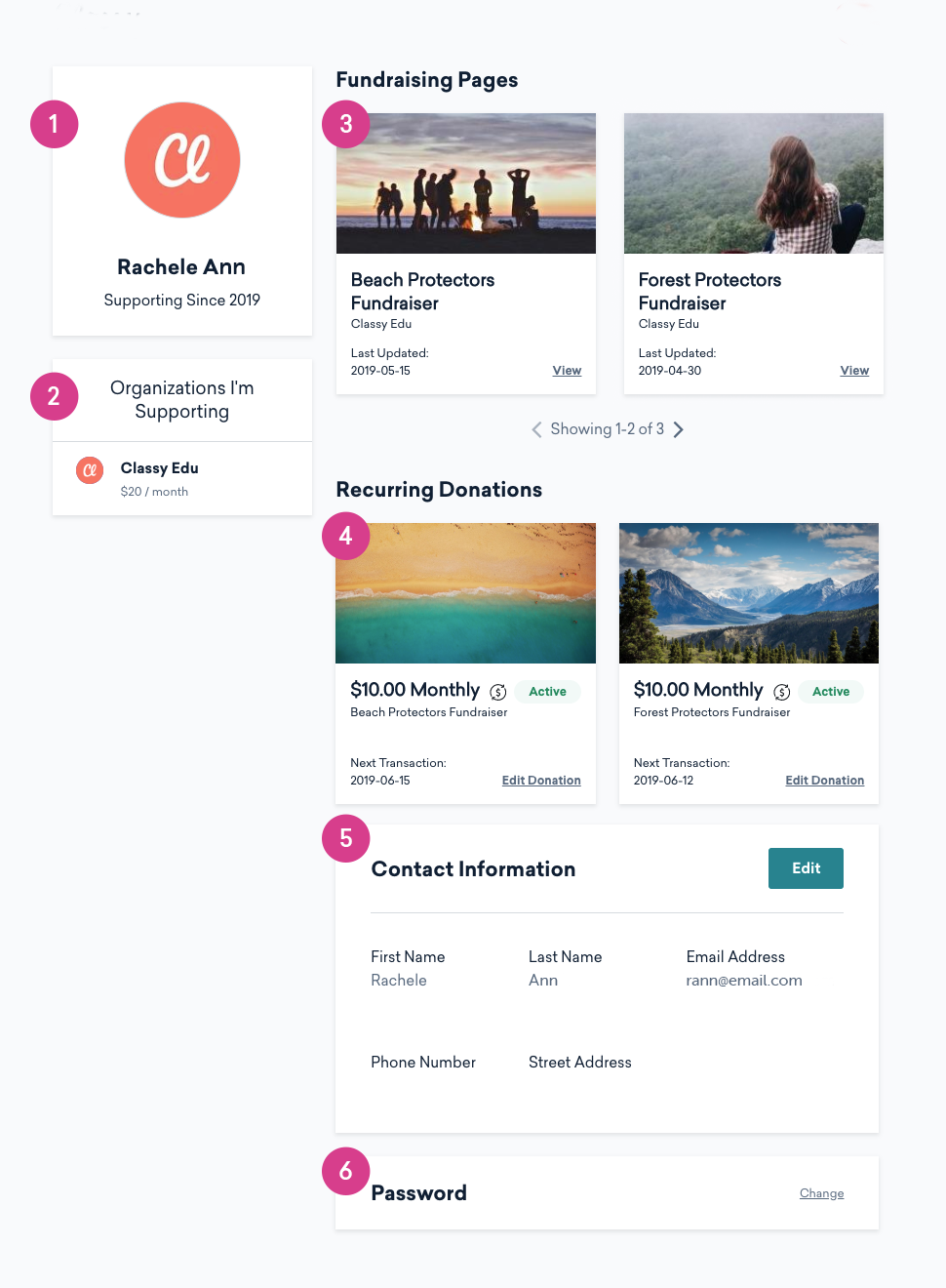 Your dashboard has 6 sections:
1. Profile - Click on the profile pic in order to upload or change your profile pic. This picture will appear in your avatar at the top-right corner of the page and appears in the activity feed for any campaigns that you have donated to or fundraised for. If you choose to donate anonymously, your picture and name will not appear.
2. Organizations I'm Supporting - This is where you'll see "Shriners Hospitals for Children" the organization that you donate to or fundraise for. Click on Shriners Hospitals for Children to access your Supporter Page. From your Supporter Page you can:
Resend yourself receipts
Edit any monthly donations
Edit any personal fundraising pages
Learn more about Supporter Pages
3. Fundraising pages - If you set up any fundraising pages you'll see them on your Supporter Dashboard. Each tile that appears will also have a link to your fundraising page so you can check on your progress or edit your page.

4. Monthly Donations - If you give monthly you'll see them listed on your Supporter Dashboard. Tap the link on any monthly donation to edit the credit card information, billing address, or to cancel the donation.

5. Contact Information - This is the contact information for your account. Click the Edit button to make changes.

6. Password - Use this section to change the password for your account. If you forgot your password, visit our password reset guide.
I'm a fundraiser. How do I edit my personal fundraising page?
The easiest way is to use the Fundraising Pages section on your Supporter Dashboard. Simply click the View link on the page you want to edit to visit your fundraising page.



Once you get to your fundraising page, you'll see a Manage button in the top-right corner. Hit the button to go to the editor for your fundraising page.
Here are a few additional resources that may help. These are designed to help you become familiar with your account. We recommend that you read through them in order to better understand your supporter experience.

For supporters:
For fundraisers:
Who is Classy?
Classy builds the fundraising software for Shriners Hospitals for Children and is the official platform for our fundraising efforts. They give us the tools we need to support and raise funds for our mission.